Whether you are a national company that has locations throughout the country or a local business owner that has one location, you can take comfort in the abilities of our installation team at Lewis Sign.
Lewis Sign makes the sign installation process painless. Our permitting staff will handle the permit procurement process, so that our customer does not have to interact with the City's Permitting Office. At Lewis Sign, we have hundreds of years of combined installation experience; our ability to make you look good is what sets us apart from our competition.
Size does not matter; we can install small banners to high-rise corporate signage and everything in between. We take pride in our fleet; we own and utilize the latest and safest lift equipment available to our industry.
You will be proud to see your beautiful new sign installed by our team of qualified and licensed installers, you will rest easy in the fact that the job has been completed with Honesty, Integrity and Quality.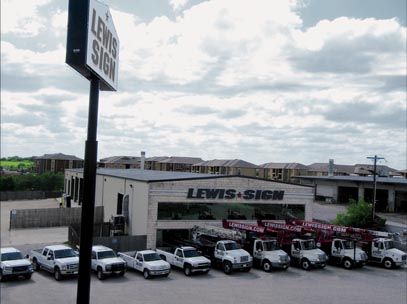 "I am taking this opportunity to say thank you for the quality work you and your team have been doing for us over the past couple years.  The services your company provides are well above all of the other companies I've done business with and when it comes to sign installations you guys are at the top of my list.  Finally I have found a company that I can fully rely on and I would highly recommend your services to anyone.  Moving forward we will continue to look to Lewis Sign for all of our sign installation needs.  Thank you for all your hard work."  
-Bobby C. Reese III
Enterprise Rent – A – Car
Sr. Operations Coordinator